At Northtowne Dental in Albuquerque, NM, Dr. Michael Armijo and his team of dedicated staff are committed to serving their patients with tremendous compassion and efficiency. To achieve these goals, the group has a clearly defined philosophy along with several key statements of commitment that show they see patients as individuals who deserve focused and attentive care. This holds true whether patients are simply calling in with a question or having treatment.
MEET THE NORTHTOWNE DENTAL TEAM
Dr. Michael Armijo
Cassandra Ford – Dental Assistant Coordinator
Danielle Trodden – Dental Hygienist
David Nicasio – Dental Hygienist
Jessica – Dental Hygienist
Kathy Armijo – Business Director
PRACTICE PHILOSOPHY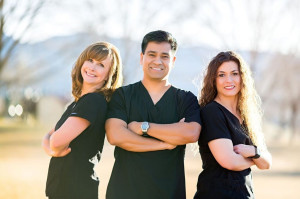 We develop our lasting relationship with you through our cutting-edge dentistry and compassionate care. Dr. Armijo and all of the staff members at Northtowne Dental work to build long-term relationships with all patients, using a combination of compassionate care and state-of-the-art dentistry to serve patients best. However, the team also has a four-point list of qualities they emphasize at all times.
1. Compassion – Dr. Armijo and his team know that a large number of patients experience some sort of nervousness or anxiety about dental work, and so they ensure that each patient is greeted with warmth and kindness from the moment they step through the door. This compassion is also seen in the way that everyone works to provide comfort at all times and engage in friendly and authentic rapport with each patient. Your oral health is a huge part of your overall health, and your smile is something that can boost your confidence and give you a happier life. The team at Northtowne Dental knows this, and works to be sure your needs are met and your comfort sustained at all times.
2. Efficient Care – At Northtowne Dental, you see teamwork in action at all times. This provides patients with the most efficient care. We are prompt and detail-oriented, but we also use the latest technologies to ensure that patients enjoy fast, effective, and comfortable treatments as well.
3. Expertise – Dr. Armijo and the staff of Northtowne Dental are dedicated to adopting new technologies, but this means that ongoing education is essential as well. The entire team is up to date on the very latest dental techniques, methods, and materials. Patients easily see this and know that they are in the most capable hands imaginable.
4. Integrity – The entire team at Northtowne Dental stands behind its work, placing a tremendous value on honesty and reliability. No patient is regarded as just a set of teeth and gums, but as a valued patient in need of accurate advice and recommendations. Patients can trust the word of Dr. Armijo and his team because of their solid commitment to integrity at all times.
This four-point set of qualities can also be seen in the office's overall practice policies.
PRACTICE POLICY
In addition to the qualities that patients can count on in the entire staff at Northtowne Dental, the office also has three formally stated commitments made to patients, as well:
COMMITMENT TO TREATMENT POLICY
Dr. Armijo and the staff commit to full treatment plans. Going over all of a patient's needs, ensuring that everyone is on the same page, and seeing that treatment plan through to the end is something that guarantees patients the highest level of service and dental health.
COMMITMENT TO APPOINTMENT POLICY
Because of the efficiency with which the entire team works, appointments are often kept to a minimum. This is to provide patients with the greatest convenience and fewer trips needed to get their full treatment plans completed. The team also asks patients to commit to appointments and be sure they keep them to protect their own dental health.
COMMITMENT TO FINANCIAL ARRANGEMENT POLICY
Making an array of payment options available, the team at Northtowne Dental ensures that patients can obtain the comprehensive care needed. Offering only the most expert, honest, and skilled planning and treatments, the team must be compensated for such service via payment arrangements. The office team works with patients to ensure they understand and are able to fulfill commitments, enabling all to obtain premium dental care.
If you have any questions about our philosophy or practice, or if you would like to book a consultation with Dr. Armijo about your dental needs, give our Albuquerque, NM office a call at 505-797-1000, or use the online contact form, and one of our staff will get back to you quickly.