Cosmetic Dentistry in Albuquerque, NM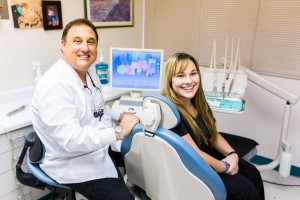 We earn our lasting relationship with you through cutting-edge dentistry and compassionate care.
What are the things that are most important to us?
• Compassion • Efficient Care • Expertise • Integrity
If you are in need of high-quality dental care in the Albuquerque area, turn to Northtowne Dental and Dr. Michael Armijo. With more than twenty years of experience in general, cosmetic, and restorative dentistry, Dr. Armijo brings the highest level of professionalism to his patients.
Whether you are interested in preventative dental care for yourself and your family or you want to explore options in cosmetic dentistry, dental implants, dentures, and more, Northtowne Dental is the ideal solution. Priding themselves on their attentive and individualized treatment plans for each of their satisfied patients, Dr. Armijo and his team focus on efficient care that ensures the best results. That efficiency includes high levels of training as well as the very latest technology.
Patients of Northtowne Dental can rely on our dentist, Dr. Armijo for CEREC Dental Crowns, an innovative method for "same day" crowns. The practice also uses 3D x-rays, laser treatments, and even features a full-service dental lab to limit your need for multiple trips to the Albuquerque dental office. Though the team provides patients with basic cleanings and exams, they are also ready to offer only the most state-of-the-art solutions for a much wider array of needs.
Dedicated to the latest technologies and innovations, Dr. Armijo and his staff are fully committed to providing each patient with attentive and compassionate care, and this goes beyond the use of innovative equipment and techniques. While enjoying the convenience of the cutting-edge technologies in use at Northtowne Dental, patients of Dr. Armijo and his staff will be put at ease if they suffer any sort of anxiety or nervousness about dental care. The team provides all patients with the utmost comfort, and guarantees that they will be treated with integrity.
With flexible payment options and around the clock emergency service, Dr. Armijo and the staff of Northtowne dental prove they are a complete dental care solution for patients in the Albuquerque area. You are not just your dental problems or another set of teeth with Northtowne Dental; you are a patient deserving of expertise, compassion, and efficient care.
When you are ready to schedule a visit, give us a call at 505-797-1000, or use the convenient online contact us forms and one of the staff will reply promptly. Conveniently located behind UNM Health, Far North Shopping, and the Whole Foods Store, the dental office is easy to find and has plenty of parking.

What to look for in a dental office in Albuquerque
Looking for the best dentist in Albuquerque? Then you're looking for dental offices in Albuquerque that have a great team with lots of experience! You're looking for a dentist that does more than just cleaning, and will provide you with an efficient care experience throughout the entire process from your first call, through any time you need dental work in Albuquerque.
The best dentist in Albuquerque has the integrity to fully stand behind their work, to treat their clientele as a person instead of just another mouth, and would want you to see them as more than just another dental office. The best dentist in Albuquerque wants you to feel welcomed and valued, makes you feel comfortable in their office, and keeps you informed on everything going on with your procedures. They want you to look forward to your dental service experiences and be confident in your smile.
When looking for the best dentist in Albuquerque, you are looking for Northtowne Dental. With over 20 years of experience, Dr. Michael Armijo and his friendly, expert team will provide you with the finest services, using the most modern and proven techniques and technologies to give you a healthy mouth and your best smile. This makes him the one of the best dentists in Albuquerque. Don't just take this claim at face value, have a look at our reviews! There are over 42 pages of them, resulting in an overall rating of 4.9/5 stars!
Experience and Quality of Care
As mentioned above, Dr. Armijo has over 20 years' of dentistry experience, but he continues to develop his skills and education in order to provide top-tier dental services using the most up-to-date practices available. Although he is one of the best dentists, Albuquerque's, Dr. Armijo doesn't work alone; he has a dedicated, personable, and professional team with over 60 years' combined experience amongst his four hygienists who all abide by Northtowne Dental's core values – compassion, efficient care, expertise, and integrity – to address your individual needs and ensure that you have a positive experience.
Services
Like we said above, the best dentist in Albuquerque would want you to feel comfortable and cared for, so, we'd like to talk to you. Let's talk about what we can offer you, and how we'll approach your dental needs.
We offer a variety of services including general dentistry (routine cleaning, etc.), cosmetic dentistry (such as whitening and crowns), and corrective dentistry (root canals, dentures, and implants). We respect you, your time, and your budget; we'll only schedule you for necessary appointments and try to keep the required routine appointments to a minimum. And, with anything out of the ordinary or anything unexpected, we will ensure that you fully understand the process, benefits and risks, as well as the associated costs, before you make your decision.
We also offer a Smile Makeover plan so you can get the best of all of these services in a combined procedure(s). We look forward to discussing your options, and what each of those options will entail. Your glowing smile will add to your confidence, and that is what we aim for with each client.
Contact us today and we will exceed your expectations.
Need To Save Time? Click Here To Download Your Forms Before Your Appointment. Patient Forms